EcoCover
Environmentally Friendly Weed Matting
Organic
A Unique Product Attribute
Water Conservation (up to 80%)
Moderates Soil Temperature Fluctuations
Reduces Plant Mortality
Achieves 100% Zero Waste Objective

EcoCover® Environmentally Friendly Weed Matting is produced from waste paper that is removed from the landfill waste stream. The Weed Mat NZ products contain unique attributes that benefit the plant, soil and environment. The EcoCover fertiliser enriched Weed Mat is a cost-effective substitute for other mulch systems used in the horticultural, agricultural and land management industries. EcoCover Weed Matting is the world's most complete plant mulch.
EcoCover is one of the few Weed Mat Suppliers dedicated to providing products that help sustain the environment and follow the rules of the three pillars of sustainability.
EcoCover's patented Biodegradeable Weed Mat products build soil carbon levels, are organic, compostable and biodegradable, conserve water, reduce plant mortality, control weeds, promote plant and crop growth, moderate soil temperature, reduce soil erosion, sequester CO2, reduce plant losses, eliminate or reduce herbicide use, are a carrier of beneficial additives for the soil and save you money.
"EcoCover. It's better than recycling, it's more than just profit. It's the responsible choice."
Quickly find out how it works here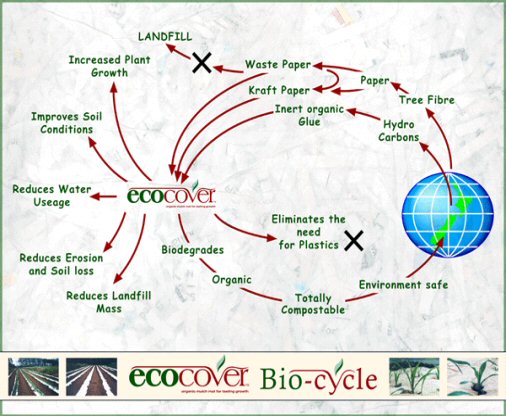 For further information and full research data on each of these properties please go to EcoCover Product Attributes.
EcoCover Mulch Mats and product derivatives are protected under International Patent Laws and have been certified by IFOAM accredited organic certification agencies and Environmental agencies for preferred procurement status. The manufacturing plant offers a unique, completely closed loop waste process.
Product Uses And Applications
Livestock Bedding
Floor Covering
Broadacre Cropping
Covers for Landfills
Eco Pot Tops
The Mat as a Carrier (for fertilizers and soil conditioners, to name just two)
Eco Bags
Mulch and Seed Mat (organic and non-organic agricultural applications)
Packaging
Moulded Shapes
Building and Construction
The EcoCover Mulch Market Opportunity
The market is comprehensively wide and presently includes all:
Field and Row Farmers – Organic and non-organic
Tree and Vine Farmers – Organic and non-organic
Forestry
Other, e.g. landscaping, Local Bodies & Councils, retail, etc.
EcoCover Weed Mats Key Product Attributes
Organic (a unique product attribute)
100% Compostable
100% Biodegradable
Builds soil carbon
Sequesters CO2 (a unique product attribute)
Water Conservation (up to 80%)
Weed Control
Gardens and landscaping, orchards, forestry, nurseries and other weed problem areas
Promotes Plant Growth
Moderates Soil Temperature Fluctuations
Erosion Control
Herbicide Reduction or Elimination
Reduces Plant Mortality
Achieves 100% Zero Waste Objective
Able to be used as a unique delivery mechanism.
The new EcoCover Fertilizer Enriched Mat is an excellent example where the mat is used as a carrier for an organic approved fertilizer, ensuring a cost effective application without wastage and overspray.
Research Has Proven EcoCover Will Likely Deliver
Reduction of paper in landfill
Reduction of plastic in landfill
Reduction in water usage
Reduction in plant loss and mortality
Reduction in herbicide usage
Reduction in soil and groundwater contamination
Reduction in weeds and weed seeds
Increase in soil carbon levels
Increase in plant growth, quality and yield
Increase in soil quality and health
Improvement in the visual landscape
Sequesters CO2 impacting on climate change
A cost effective mulch
A zero waste solution
Possible cost savings in requiring fewer plants per sq.m.
"These mulch mats have exceeded my expectations in both suppression of weeds around the young tress and retaining moisture. This in turn has meant that I have not had to spray around the trees (no chemicals) and has significantly reduced the amount of time I have had to commit to this landcare project. This particular site has had a history of significant losses (this is the third replanting) and I have not lost a single tree where EcoCover weed squares were used. I only wish I had discovered EcoCover earlier."

− JC, Bellingen, NSW, Australia
"The performance of the many hundreds of EcoCover squares on our rural property has been outstanding. In less than 12 months the trees have more than doubled in size, with very healthy foliage that would have been choked without the EcoCover. The rehabilitation site is particularly prone to the strong prevailing wind and historically plant losses would be high. We have none."

− Robertson Farm, Clevedon, New Zealand
"The EcoCover rolls were a pleasure to lay down. I was impressed with how long it lasted in the unfavourable weather conditions (rain and wind gusts up to 100kph) before we applied a 1 inch layer of bark over the top. The new plantings have taken off extremely well, all credit to the EcoCover with no losses and no weeds. Much interest has been shown by locals and tourists alike and we will be using the product again."

− Ranger, Dept. of Conservation, Stewart Island, New Zealand
"EcoCover - exclusive mulch supplier to Television New Zealand's award winning series"

− Mucking In
"Water is the most important problem facing agriculture and horticulture in Queensland. With our new plantings using EcoCover, we immediately reduced our watering regime by 50% (saving on water, transport and labour costs, as well as improving our public image) and will in all probability reduce this by a further 50% if our present monitoring continues to show such outstanding results."

− Queensland City Council, Australia
"EcoCover mulch mat epitomises 21st century thinking in the new eco-nomy. In practical terms the use of EcoCover on our public gardens has significantly reduced the growing waste paper mountain and reduced our maintenance costs. Furthermore the growth rate of plants with EcoCover protection has exceeded our expectations. This revolutionary product comes with our strongest recommendation."

− CEO, Waitakere City, New Zealand
"We have trialled a significant number of EcoCover squares in various locations for weed suppression in plantation forestry during the past 12 months. EcoCover is providing total weed control on all sites and exceptional growth with healthy plantings. EcoCover did everything they said it would and more."

− Trees for Earth, Queensland, Australia
"It is with great satisfaction I am writing to you today as I have recently seen some of the benefits of using EcoCover at some test sites. The instructions you gave for the use of the product were clear and straight forward, its establishment made so much easier. I found the function of the product to be superb as both a weed mat and an additional moisture retention barrier. In addition to these qualities EcoCover's added fertilizer content released over time in parallel with its natural biodegradation, was a brilliant accelerator to growth and plant establishment. The large sites EcoCover was used on were particularly tough, (slopes, prone to drought, waste soils) however, the product responded really well. To top it off its 100% recycled contents pushed all the right buttons especially where our native revegetation exercises were being carried out."

− EG, (Local Council) United Kingdom